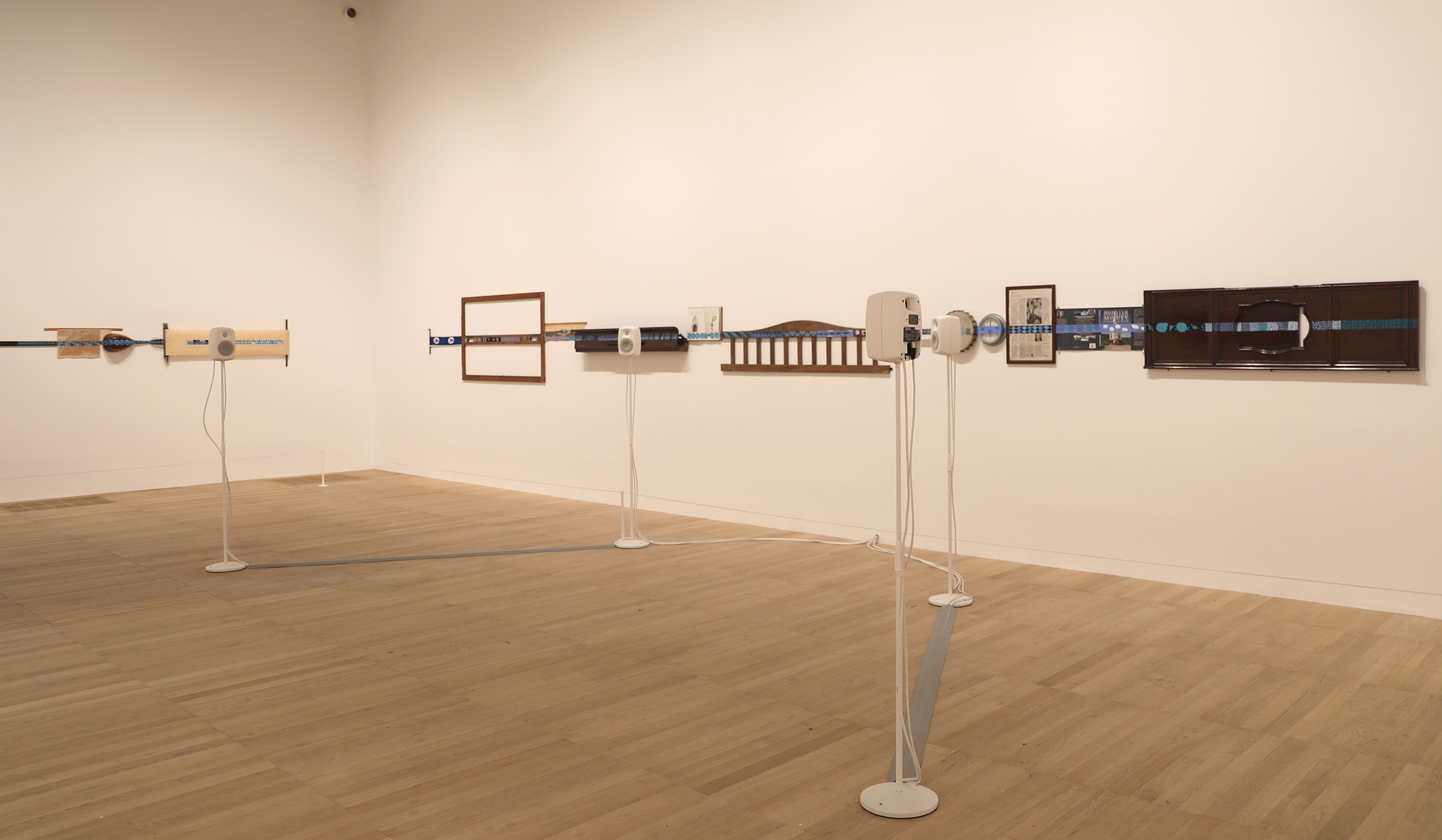 19 Dec 2021
Sound contribution to Lubaina Himid TATE Modern Exhibition 2021-2022
Lubaina Himid exhibition inspired by theatre puts the audience at the centre of the stage, where the visitor is invited to experience layered narratives, unfolding across 7 rooms. The exhibition combines paintings, sound works, installation and paintings on found objects. Interweaving earlier pieces with recent work.
Magda Stawarska's contribution to the Lubaina Himid exhibition at Tate Modern has, in her words, been pivotal:
'We felt like composers, you know. When we were running sound test in the gallery it felt like Magda and I, with the museum team, had managed to weave together all of the sound… So the whole exhibition is now a composition.'
Five sound pieces thread through the show pulling and pushing the audience from scene to scene, using the architecture of the galleries themselves, bringing the speakers into the foreground.
Reduce the Time Spent Holding (2019) sound on two speakers opens the exhibition and sets the scene for the debates around making and architecture which occupy the first room. Lubaina with various intonations and voice modulations from an intimate whisper to assertive commands, recites from health and safety manuals. The voice is interwoven with the rhythmic mechanical sounds of making, focusing the viewer on the intimacy of making.
As the show unfolds, our collaborative work Blue Grid Test (2020) holds the space with the six-channel sound-work in conversation with Lubaina's twenty-five metre painting which together surrounds the audience. Patterns from around the world are layered with memories and translations of the colour blue.
Old Boat New Money (2019) has at its heart the sound of the Atlantic. Stawarska's soundwork at the centre of Lubaina's wooden structure helps to evoke the ocean itself and the boats which made endless journeys with captured Africans to the Caribbean.
In Fashionable Marriage (1987) a satire on the art world of 1980s, the music of Zanzibar plays with Handel's Entrance of The Queen of Sheba the contribution in this case centres on making the most of the timing of the sound as it dominates and then retreats, drawing audiences nearer to the action.
In the final room Stawarska's 2017 composition for the installation Naming the Money (2004) changes the emphasis of the piece, which is exhibited here without the 100 cut-outs. developing it forward from the telling of slave narratives into a call to audiences to consider their futures.