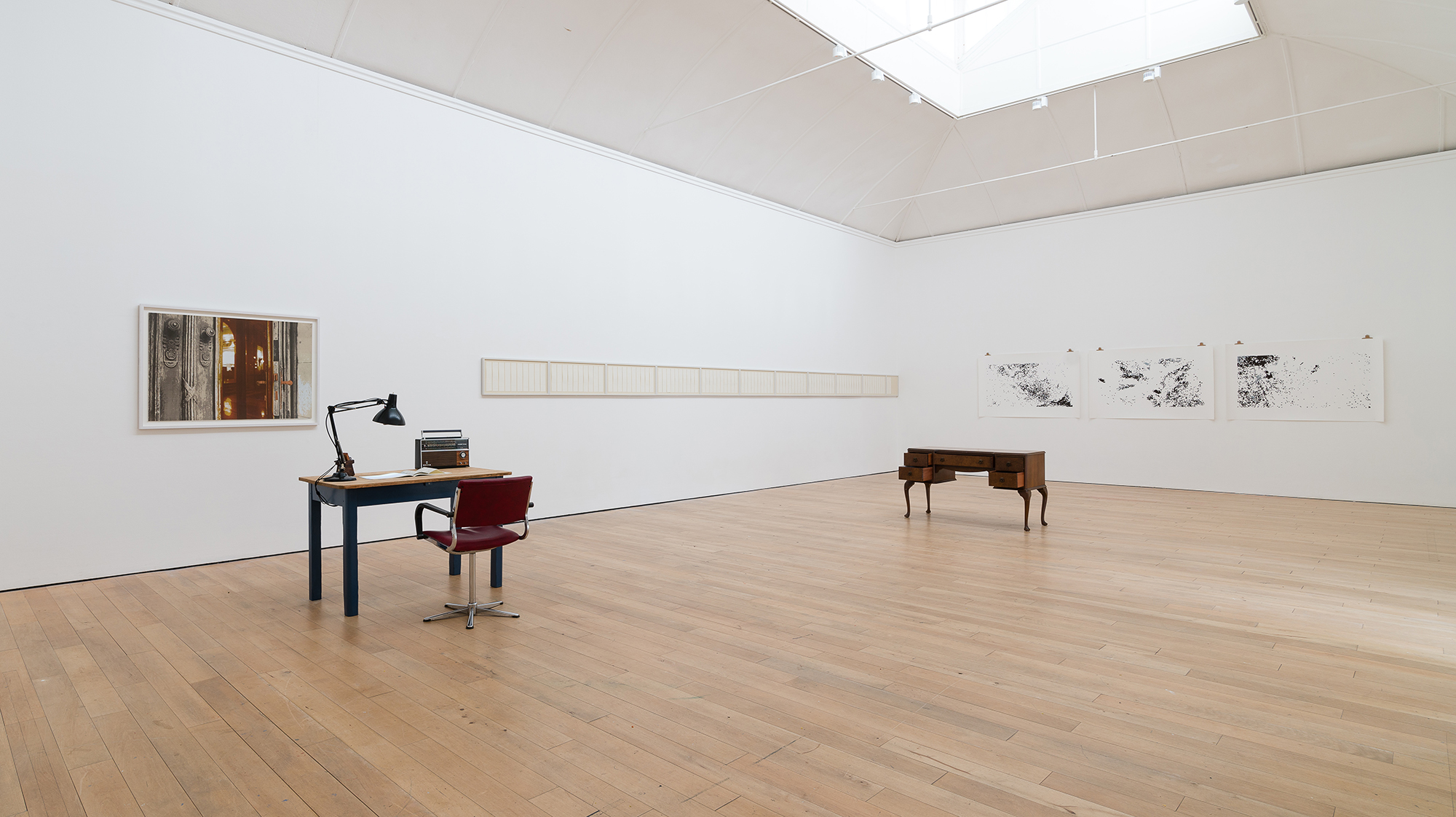 02 Apr 2019
INVISIBLE NARRATIVES, Newlyn Art Gallery 23 March – 15 June 2019
INVISIBLE NARRATIVES
NEW CONVERSATIONS ABOUT TIME AND PLACE
Newlyn Art Gallery 23 March – 15 June 2019
Rebecca Chesney, Lubaina Himid, Magda Stawarska
"A rural ecologist, an urban drifter and a diasporic optimist examine the invisible layers underneath, the lost spaces on the edge and the forgotten places in between." Lubaina Himid.
Curated by Lubaina Himid, winner of the 2017 Turner Prize, Invisible Narrativesexplores the work of three artists, Rebecca Chesney, Lubaina Himid and Magda Stawarska, who consider the poetic investigation of place, space and time, through painting, sound installation and place-based research.
All three artists use their work to uncover the hidden narratives of place; is it possible to remember an apparently unknown history?
Each artist has made new work for the show.
Rebecca Chesneyshows three pieces, in the lower gallery Forewarning, a three-screen video and sound installation filmed in 2018 on South Walney Island off the coast of Cumbria.
In the upper gallery Chesney presents a new line drawing showing mean sea level recorded at Newlyn's Tidal Observatory, from 1916 to 2017 and a series of screenprints showing satellite data of deforestation in the Sierra Nevada in America.
"I was lucky to get permission to go inside the Newlyn Tidal Observatory situated on the end of the South Pier, when I visited earlier this year. Although it's a small and unassuming building, I was struck by the importance of its role, providing over 100 years of records on sea level data"
As well as curating the exhibition, Lubaina Himidwill present a suite of paintings in the drawers of a dressing table – sometimes they will be hidden and more often completely exposed as a reminder that lives lived below the surface, and out of view, are as important as those we find in history books. Himid paints on a variety of surfaces, including ceramic and wood, often producing objects with performative potential intended to be encountered in a space.
"Buildings contain the traces and voices of those who have built them and occupied them. It's not always easy to see what remains but you can be pretty sure that the door handles, locks, thresholds and window fixings have been used before. During the past few years I have been painting people on the insides of drawers taken from abandoned pieces of household furniture. Hidden in plain sight, audiences will also be able to see a series of tiny paintings echoing the long and unresolved relationship I have with the sea and its impossibly enormous story," says Himid.
Magda Stawarska is showing several pieces, including Translating the City, a sound piece featuring the interwoven voices of two women, Ekin Sanac (from Istanbul) and Lubaina Himid, who were asked to listen to a sound composition created from recordings captured by Stawarskain Istanbul. She will also be showing three silkscreen prints from the series To Follow(2018) along with two new paintings on paper in a conversation between Casablanca and Berlin about loss and neglect.
"I have worked on several projects, including the listening to and recording of unknown cities from a very personal viewpoint using binaural microphones. Often, with those past projects, I let the city lead me through its structure, but it was always my innate curiosity which consciously and sometimes subconsciously controlled my movements," says Stawarska.