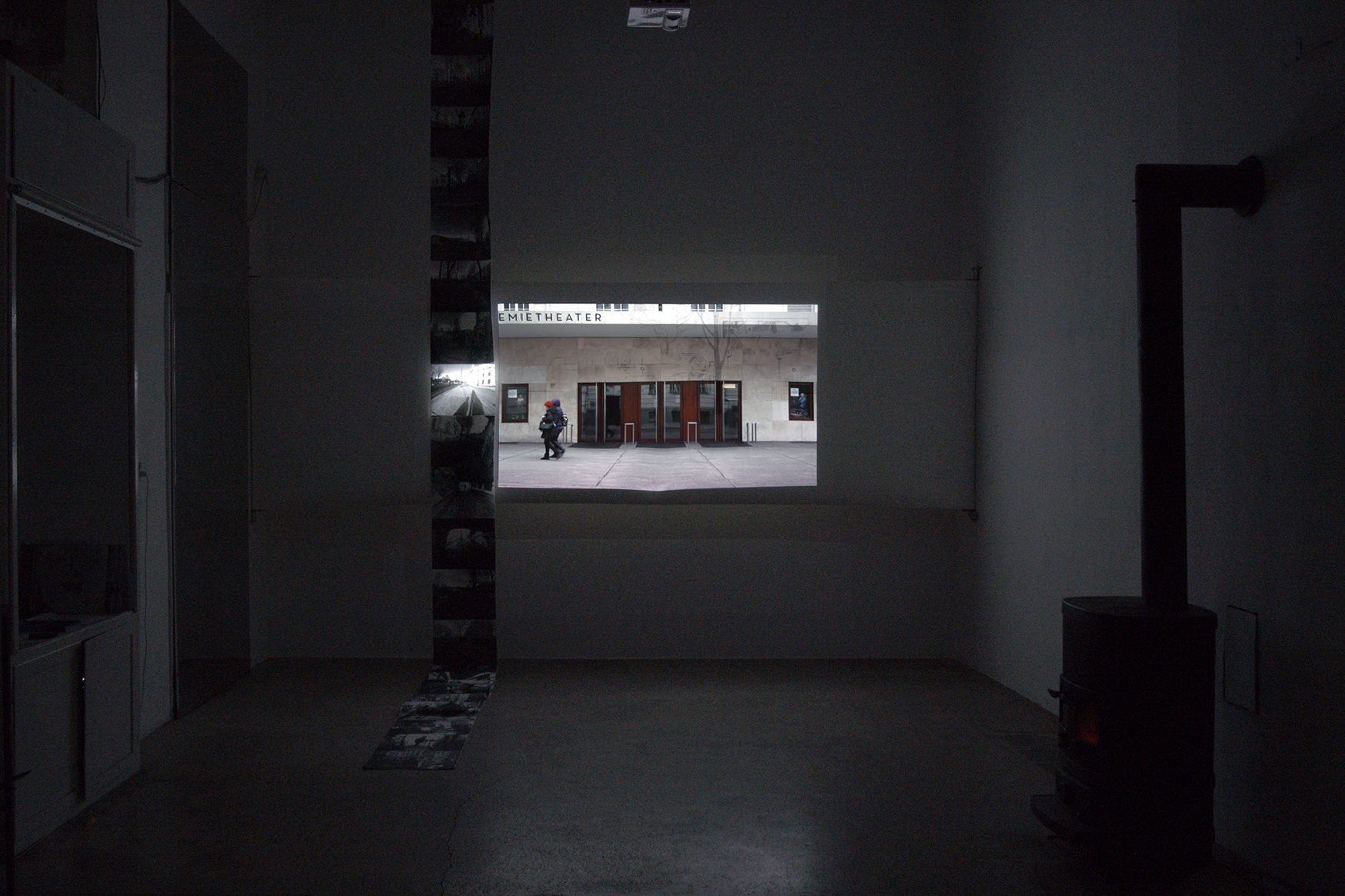 18 Nov 2019
two solo exhibitions: CLOSE UP/ LONGSHOT Polish Institute Vienna & CROSS – CUT ProjectroomMAG3 Vienna
Close Up/Long Shot (PI) and Cross Cut(MAG3) the two current exhibitions at Projectroom MAG3 and the Polish Institute in Vienna by Magda Stawarska invites you to navigate four iconic cities Vienna, Casablanca, Berlin and Istanbul.
Who/ Wer presented in MAG3
audio visual installation: 2 screen projection, 4 channel audio, 9m silkscreen print and drawing, including narrated text written by Wolfgang Kindermann
Who/Wer is a split screen projection accompanied by a composition of urban soundscape and narration in German and English. The film explores the relationship between image, text, language, voice, and urban soundscape. This work is presented in a surround sound format, where the viewer is immersed in soundscape and the two different vocals are played from different directions.
'I have worked on several projects, in which the main part of the investigation was the listening-to and recording-of unknown cities from a very personal viewpoint using binaural microphones. Often, with those past works, I let the city lead me through its structure but it was always my innate curiosity which consciously and sometimes subconsciously controlled my movements.
It was clear to me that I wanted to recreate the complexity of the listening process in the urban place, and this was central to the outcome. The layers of listening, the complexity of hearing and perceiving the sound, the barriers and boundaries we encounter and create are all at the core of the project.'
The language, gender, accent, the tone, the colour, and the rhythm of the voices are different. They both are interwoven together, creating a vocal sonic 'tapestry'. As there is no use of the first person in the text, it is ambiguous who the follower, and who the narrator is.
The split screen video is an exploration of the power struggle between moving and still image; inner thoughts versus observed action. The 4:5 ratio of flickering black and white images are juxtaposed with the wide screen 'locked-down-shot' colour films of the locations that feature in the narration. The colour screen, gives the impression of passive observation by the outsider to the city, who stands back and doesn't get involved. The city soundscape interwoven between them, holds the two contrasted images and experiences together.
Reported and imagined text appear to leak into each other's aural territory while presenting the complexities of European language; the spoken German text is heard at the same time as the English translation but is spoken with a Polish accent thereby necessitating an even more intense listening process.
Colour, Sound and the City; Listening Through a Blindfold
Lubaina Himid
During the past ten years Magda Stawarska and I have talked extensively about her project of encountering and then translating the city via a combination of recorded sound, film and screen-printed image.
Of course, I have spent even longer watching the development of her sublime screen-prints with their subtle colour and crisp line, their sense of deep longing coupled with a hovering tension and confident intent. The series of works exhibited in Vienna in 2019 across two venues allows us to witness yet another chapter of this work. Here, some of her latest and largest hand screen-printed works are boldly cut out and over-painted, turning them into much broader and more public conversations about how a city incidentally and accidently reveals its absences and missing histories.
For the installation in Vienna's MAG3 gallery, she projects two split screen moving images from the work Who/Wer onto a 9 metre long printed paper scroll and a large drawing on paper. Her screen-printed images on the scroll echo and emphasise the flickering moving image of the mysterious journeys she undertook across and around Vienna. Magda Stawarska spent many months in the city listening, looking, recording filming and composing while following the writer Wolfgang Kindermann, a native of the city. Having listened to her composition of sounds collaged and edited from the place he knew so well, he in turn remembers, invents and re-remembers a series of connected and disconnected fictional and factual narratives from his life. This exchange is then enclosed and reconfigured and set against her beautiful fixed camera moving images projected onto the adjacent drawing for her MAG3 installation Cross Cutting.
When she was asked to participate in the Casablanca Biennale in 2018, I could see that this opportunity had become a starting point for an exciting experimentation with projections onto objects and working with paper structures. She suspended, at differing distances apart from one another, large and intricately made paper cut-outs of the land around the Mediterranean which disrupted her double screen projections of the Bosphorus ferry crossings; as a result of this disconcerting sculptural placing, a precise and complete shadow of the entire Mediterranean basin was revealed on the wall.
Since then, she has projected moving images from a piccolo projector hidden in a lamp onto a page of an open book on the desk for Translating the City (2019) first exhibited at Newlyn Art Gallery and now on show at The Polish Institute in Vienna.
As a participant in three of her city projects, I have found myself having to find my way through her sonic city infrastructures aided by a blindfold. Often, it's an extraordinary and disquieting experience. Translating the City (2019) is a small part of her vast project; East(hyphen)West Impressions of Istanbul. To produce it she asked me to navigate my way through her complex sound compositions of the city. I listened countless times to her intricate sound collages, constructed from material gathered while listening looking and recording day after day as she walked with her camera and her audio equipment. Many times during her stay she found herself crossing and re-crossing The Bosphorus Strait; underneath by rail and back and forth across via the ferry.
I could hear and wrote down, the calls of confident men and the shouts of boisterous children, occasionally annoying bossy public announcements; dangerous deep rushing water, dominated my thoughts. In addition, numerous boat and car, lorry and ferry engines, even some domestic animals and caged birds seemed to interrupt and fill my thoughts and awaken surprising memories. What I heard and thought I saw was, with startling clarity; the crowded markets in Zanzibar Town my place of birth, the sandy beaches of Blackpool, where I spent endless chilly summer holidays with my English grandmother and the narrowest darkest passageways in Venice where I had over the years tried to find the courage to return home.
The experience of hearing the huge and varied galaxy of sounds from Istanbul, enabled and encouraged a recalling and replaying of my memories of being in places I knew well, while wandering through the many districts of Istanbul without ever having been there.